If you have a patriotic themed Christmas tree or you are simply just looking for a red, white, and blue Christmas tree topper you may actually be pleasantly surprised to find the different options available this year.
Having a patriotic or red, white, and blue themed tree is actually getting pretty popular but is still seen as a unique twist on showing love for your country and celebrating the holidays.
Here are some great toppers to choose from that would fit in perfect with this style of Christmas tree.
Red, White and Blue Bow Christmas Tree Toppers
These bow toppers have the perfect balance of red, white, and blue that would look great with a patriotic themed tree but also with a wintry snow theme or even a blue themed Christmas tree.
The thing that I really like about these toppers are that they are ones that you don't see all the time. The bows are handmade and don't have that mass production look that most other toppers have.
They are definitely unique and some of the sellers will even custom make a topper with different ribbons mixed in if you are interested in that as well.
Patriotic Red, White and Blue Christmas Tree Toppers
If you are looking for something a little more on the patriotic side for your tree, be sure to check out the options below. These would fit in perfect with any patriotic or Americana styled Christmas tree but could also even work with some other themes as well.
Primitive Rusty Tin Americana Star Tree TopperMore Info
Americana Patriotic Star Tree TopperMore Info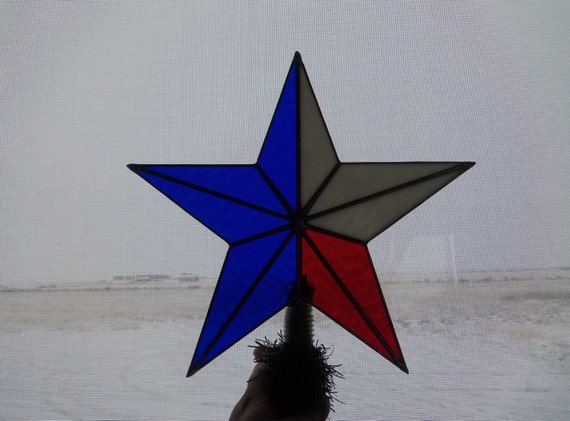 Red, White & Blue Stained Glass Star TopperMore Info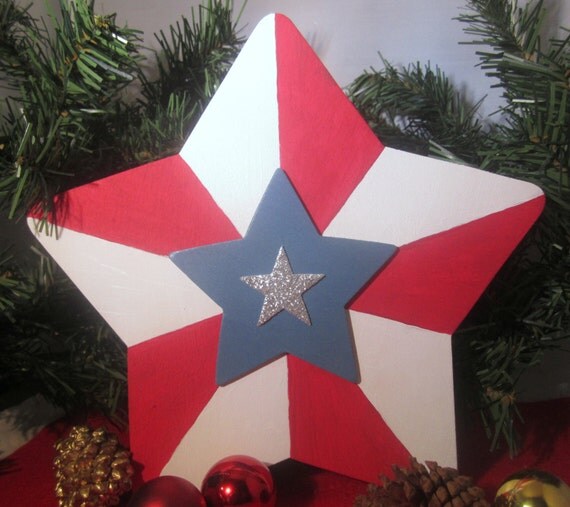 Patriotic Star Wood Tree TopperMore Info
With the stained glass and wooden star topper above you can also find other color combinations for the toppers or have it adjusted to your liking with a custom order.
Although the red, white, and blue toppers above would be perfect for a patriotic themed Christmas tree most of them are definitely not limited to just that theme. Some could work with a primitive or country theme while other would work great with a general Christmas style tree as well.
Whether you choose the fun and whimsical bow toppers or you go with something more classic or nostalgic for your tree, you are sure to love the red, white, and blue Christmas tree toppers as you show off the love of your country as well as celebrate such a wonderful season of love and family.
Be sure to check out some of my other unique Christmas tree topper ideas as well.