Want a tree topper that is really unique and will make your Christmas tree really stand out? Then you need to check out these beautiful personalized Christmas tree toppers.
These toppers come in a variety of different styles and designs and most you can choose what you want personalized on them from a simply monogram to your entire family name.
A personalized Christmas tree topper makes a really special gift during the holidays especially for newlywed couples who may be celebrating their first Christmas married or even for your parents who are celebrating their 40th wedding anniversary.
Check out all the wonderful personalized tree toppers to choose from below and pick one up for your tree or give one as a gift to loved ones this holiday season.
Personalized Christmas Tree Topper with Monogram
These monogrammed Christmas tree toppers are perfect for the top of your tree. Most of them can even be personalized with your favorite colors to perfectly match your Christmas tree.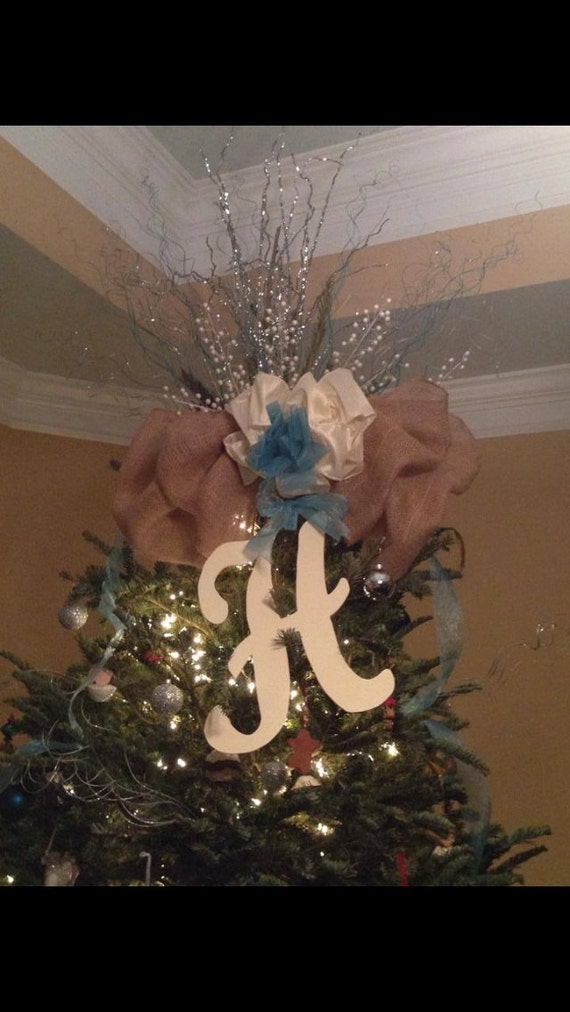 Bow Tree Topper with Handpainted Wood Initial

This topper features a bow made out of ribbon at the top with a hanging wood initial.
You can pick the colors of your ribbon as well as what color you want the letter to be painted as well. The above picture is just an idea of what it will look like but you defninitely have a variety of choices with the colors you choose.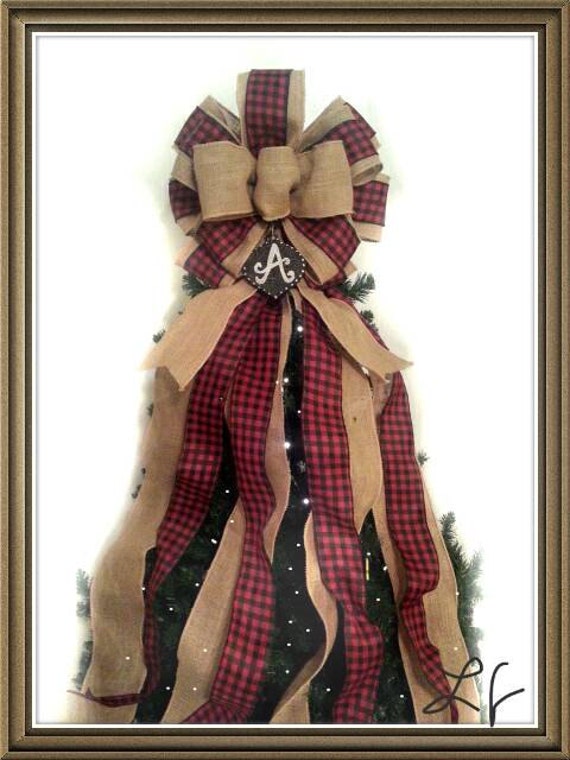 Personalized Bow Christmas Tree Topper

This bow would be perfect for your large Christmas tree as the bow measures approximately 13 inches not counting the ribbons coming down the tree.  The tree topper features a beautiful burlap and plaid bow accented with a hand painted wood monogrammed letter.
The extra long length of the streamers from the bow really draw attention to the topper and accentuate the personal touch of the letter at the top.
There are also other options available for the color of the ribbon and the color you can paint the letter.
Here are a few more Christmas tree toppers with a monogram that can also be customized with the letters as well as the colors.
There are also personalized tree toppers that simply just feature a single monogram letter for the top of your tree without the attached bow. You can use these toppers as they are or add your own ribbon or special touch to make them unique to your tree.
This monogram tree topper is available in turquoise, silver, gold, green, and red.
It measures 13 inches but there are also smaller sizes available if you have a smaller tree.
This monogram topper measures 12 inches and is a vine style with more of a script print that adds a little more flair.
You can choose your letter as well as from the different color choices of red, gold, silver, and white.
Any of these Christmas tree toppers would be perfect for the top of the tree but you can also use them other places in your home as well. For example you could use the simple single letter monograms to decorate your mantle along with some other Christmas decor items.
More Personalized Tree Topper Ideas
Here are more choices for a personalized tree topper that are a little different than the simple initial tree toppers above.
Personalized Star Tree Topper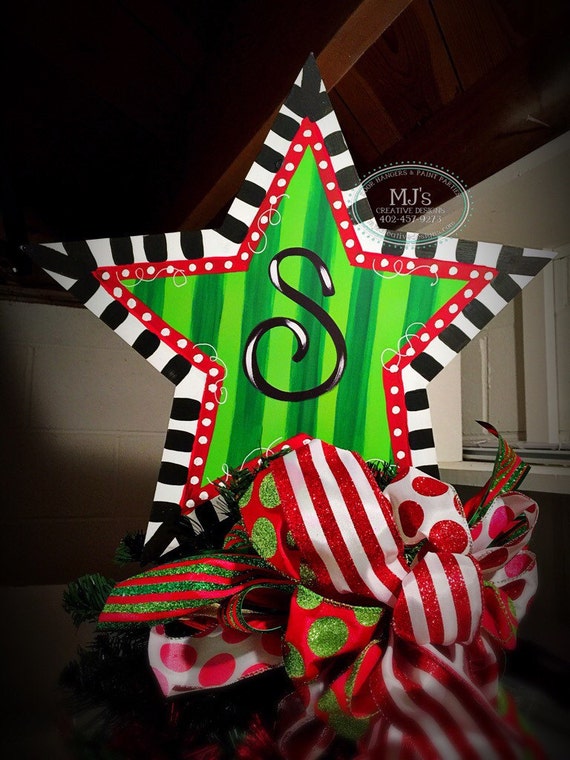 Personalized Star Christmas Tree Topper

This is a super fun and festive personalized  topper that features a colorful star paired with a coordinating bow.
The star is made from MDF which makes it durable and stable but not too heavy for the top of the tree.
It is then handpainted with acrylic paint and personalized with your letter of choice.
You can also choose to not include the bow and just have the star if you want as well. The colors on the star can also be customized as well if you want something a bit different.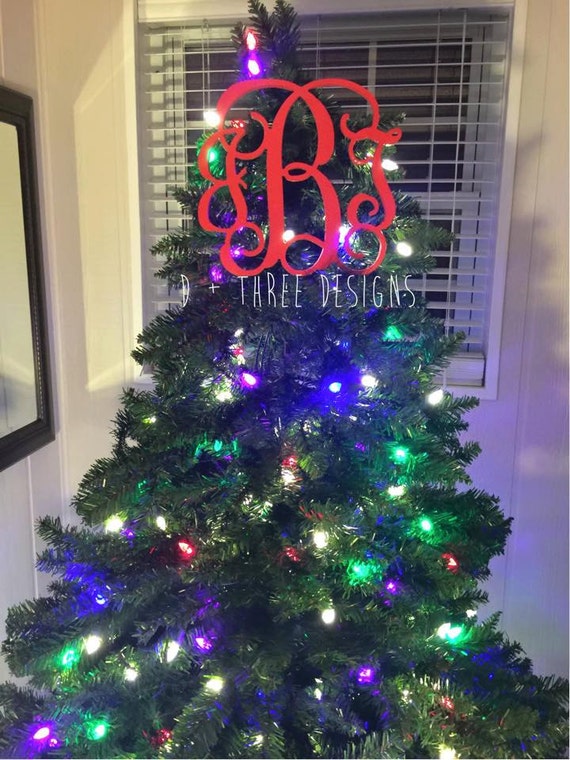 Personalized Wooden Christmas Tree Topper

This topper is made from laser cut birch wood that is designed for your family's monograms. This is the perfect topper for a newly married couple and even makes a nice wedding gift for them.
You can customize the the topper with the order of the letters as well as choose from over 40 different paint colors.
It measures approximately 9-10 inches but can also be special ordered in another size as well.
Personalized Deer Antler Christmas Tree Topper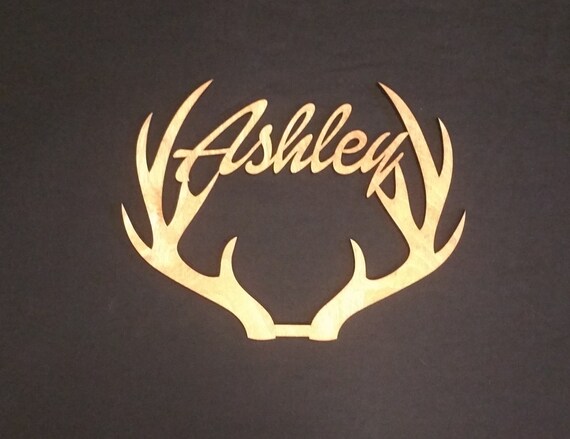 Personalized Deer Antler Tree Topper

This is a super unique Christmas tree topper that is fully customizable for your own personal taste.
You can have it customized with a name (seen above), a single initial or even a 3 letter monogram.
It is made out of a 1⁄4 inch birch wood and then stained on the front and the back to protect the wood.
There are multiple color stains and well as paint colors that you can choose from so that it matches your tree.
The topper measures approximately 8 1⁄2 by 11 inches but you can work with the seller for a customized size as well.
Simple DIY: How to Make a Personalized Christmas Tree Topper
If you want to save some money or you just enjoy making your own Christmas decor, you can easily make your own personalized Christmas tree topper.
All you have to do is to buy a single monogram letter and decorate it as your please.
I recommend a cardboard or paper mache letter and then you can paint or add glitter to it so that it matches your tree. You can usually pick up one of these letters that measures 8-9 inches for around $5-$6.
You can also go with something a bit more expensive but more durable and buy a wood monogram letter and then paint it or add embellishments as you want. These letters will cost you around $12-$15 depending on the size.
You can use paint, stain, and even glitter to cover the wood and then you can add some ribbon to help you hang it or even add in some cute accents to match the theme of your tree.
If you are really crafty you can even make these as gifts for your friends and family this Christmas.
If you aren't really crafty or you simply don't have the time before Christmas, the already made personalized Christmas tree toppers above will work great and really make your Christmas tree special this year.
(Visited 861 times, 1 visits today)